Welcome, Earthlings!
GIRLS FROM MARS play music from Earth's Swing Era: The songs of Duke Ellington, Nat King Cole, Dorothy Fields -done as you've never heard them before.  Beautiful and Original three part female vocals are the hallmark of our sound, and we're backed up by the best instrumental musicians around.
See Below and on our Calendar for Spring Tour Dates!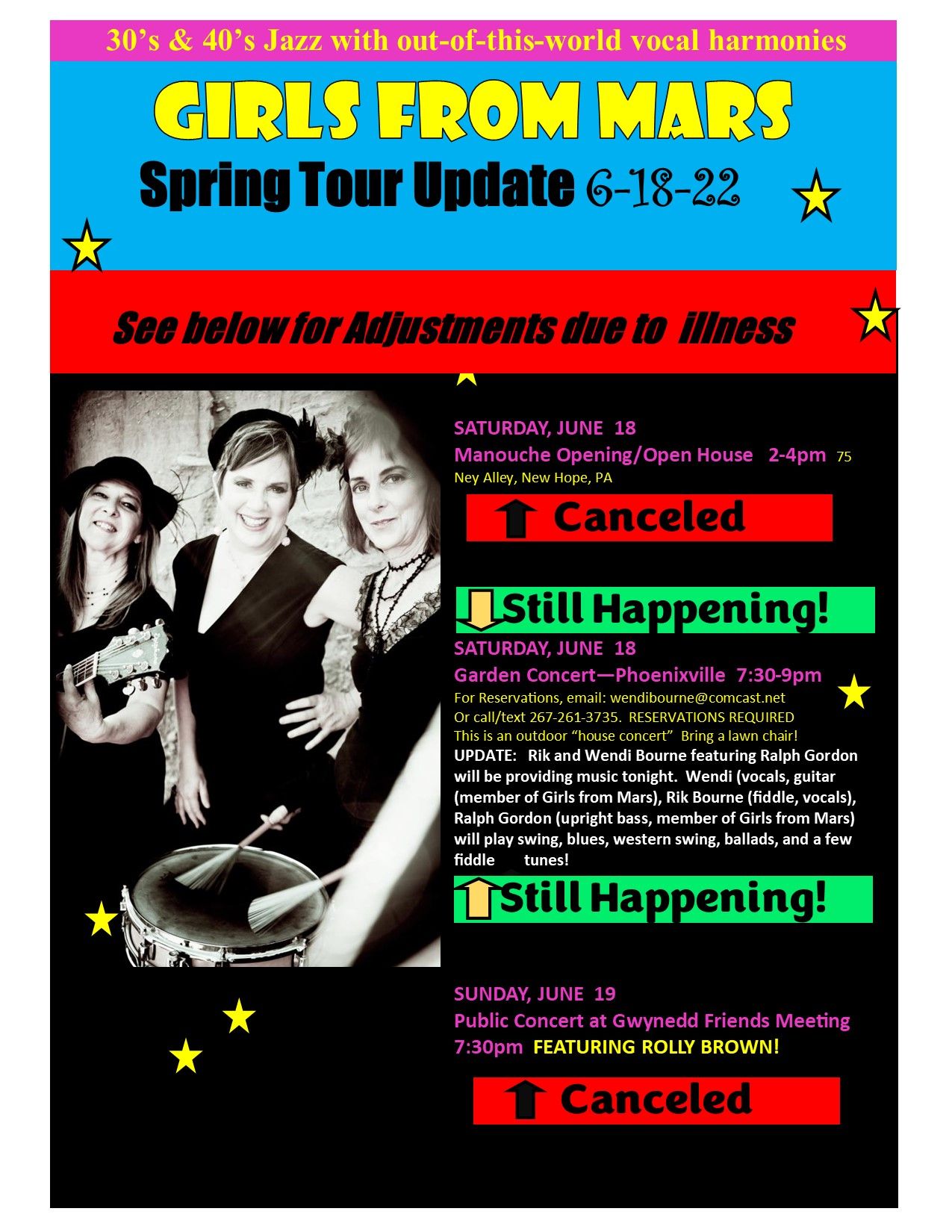 We've got a week packed with lots of music, including a LIVE STREAM CONCERT, for those not in the area, or who prefer the comfort of their living rooms!   Here's the list; check our Calendar for more details.
Wednesday, June 15, 12noon:  Live Online, one-song performance on "The Daily Music Antidote"
Wednesday, June 15, 7pm - Private Event
Thursday, June 16, 7:30pm - Live Streaming Concert. Tickets can be purchased online by following this link:
https://www.riseupandsing.org/events/girls-mars-june-22-online-concert
(see calendar for details)
Saturday, June 18, 2pm - 4pm;  Open House at Arts Shop in New Hope.  Shopping and listening to great music... what could be better?  CANCELED DUE TO ILLNESS
Saturday, June 18, 7:30pm:  Garden Concert, Phoenixville PA.  This is a house concert, only outdoors in Melba's beautiful garden.  Reservations required.  Weather permitting.  THIS CONCERT IS STILL HAPPENING; MUSIC WILL BE PROVIDED BY RIK & WENDI BOURNE FEATURING RALPH GORDONG
Sunday, June 19, 7:30pm - Concert at Gwynedd Friends Meetinghouse, Gwynedd, PA with Special Guest,             Rolly Brown.  Advance tickets available online:
CANCELED DUE TO ILLNESS
Monday, June 20, 7:30pm Private Event
CANCELED DUE TO ILLNESS
New Videos, New Tunes!
  Since we live far from each other, we have weekly sessions on a computer service called JamKazam, where we can sing and play together.  Our weekly rehearsal sessions  have resulted in a bunch of new songs, even though we have not physically been together. 
During the pandemic, we kept busy making music.  We all purchased ring lights, cellphone holders, backdrops.  Using a phone app called Acapella, we figured it out:
Wendi (in Pennsylvania) would record her guitar part and send as a text message to Annie (in Massachusetts), who would add her vocal part.  That was texted to Lauren (in New Mexico), and she added her part.  Then it went back to Wendi, who added her 3rd vocal part.  After that, it was sent to any other musicians who added their parts.   It was definitely a learning experience.... sometimes frustrating, but at the end, we came out with some videos that are nice to have, and we had something to work on during our seclusion from one another.   We've posted a few of them here, and the rest can be seen on our YouTube channel.
 Please scroll down to see more videos. 
Thanks for looking and listening!  We'll hope to see you soon!
 - Annie, Lauren and Wendi