Welcome, Earthlings!
GIRLS FROM MARS play music from Earth's Swing Era: The songs of Duke Ellington, Nat King Cole, Dorothy Fields -done as you've never heard them before.  Beautiful and Original three part female vocals are the hallmark of our sound, and we're backed up by the best instrumental musicians around.
See Below and on our Calendar for Spring Tour Dates!
GIRLS FROM MARS IN SANTA FE, NM
SATURDAY, MARCH 25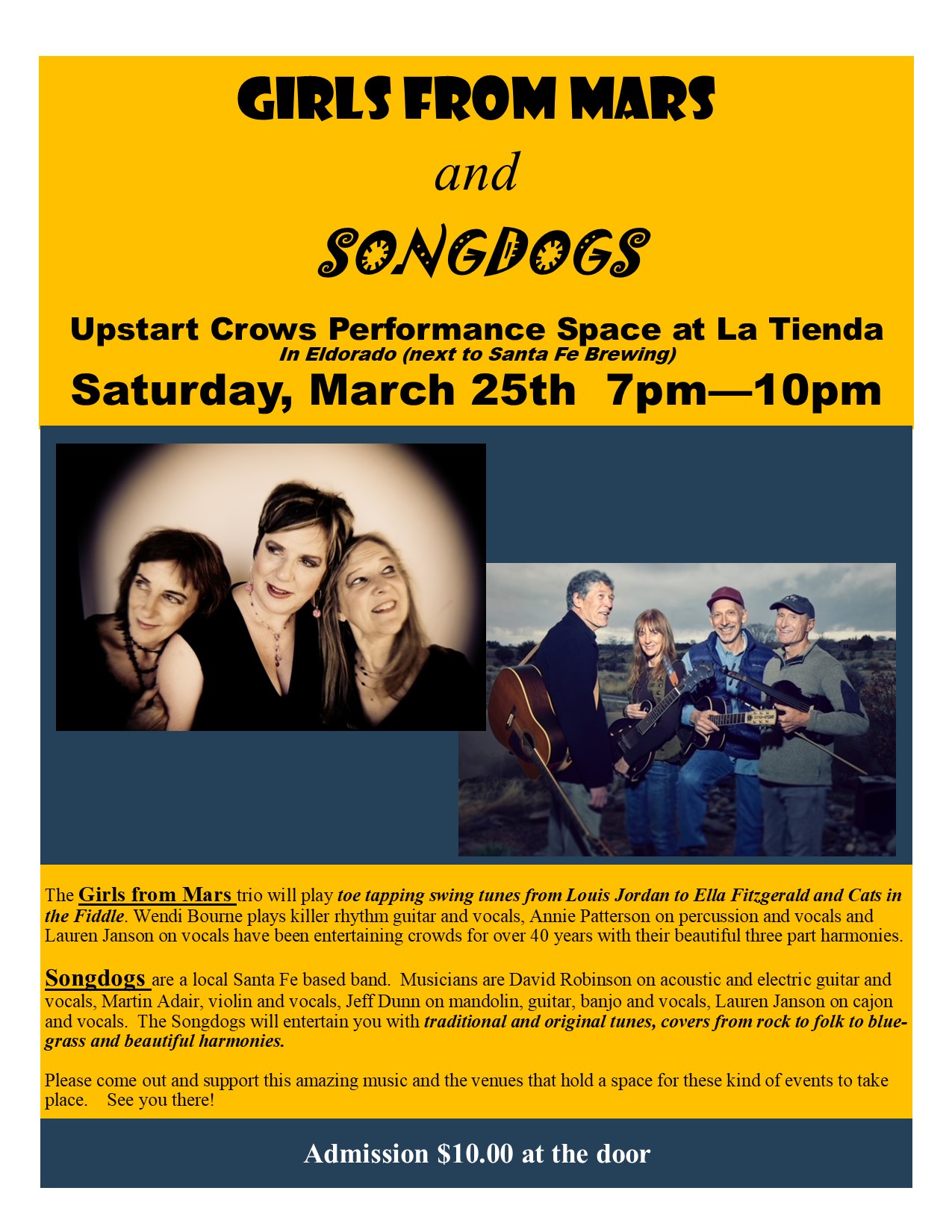 JUNE 2023 SPRING TOUR DATES (NORTHEAST)
Girls from Mars will be touring in the Northeast US during the week of 
June 15-21, 2023
However, we only have two shows that are open to the public:
SATURDAY, JUNE 17
Swing Dance at Glen Echo Park's Spanish Ballroom
Glen Echo, Maryland
lesson at 7pm, dance from 8pm - 11:30pm
With special guests:  Tom Mitchell (guitar/vocals) and Big Joe Maher (drums)
If you have not been to the Spanish Ballroom: its worth the drive!  See video below about this very special venue
*************************************************
SUNDAY, JUNE 18
Father's Day Concert at Gwynedd Friends Meeting,  
1101 DeKalb Pike, Gwynedd, PA
  7pm - 10:30pm
With special guest, Rolly Brown
More information about these shows coming soon, in the calendar section of our website
New Videos, New Tunes!
  Since we live far from each other, we have weekly sessions on a computer service called JamKazam, where we can sing and play together.  Our weekly rehearsal sessions  have resulted in a bunch of new songs, even though we have not physically been together. 
During the pandemic, we kept busy making music.  We all purchased ring lights, cellphone holders, backdrops.  Using a phone app called Acapella, we figured it out:
Wendi (in Pennsylvania) would record her guitar part and send as a text message to Annie (in Massachusetts), who would add her vocal part.  That was texted to Lauren (in New Mexico), and she added her part.  Then it went back to Wendi, who added her 3rd vocal part.  After that, it was sent to any other musicians who added their parts.   It was definitely a learning experience.... sometimes frustrating, but at the end, we came out with some videos that are nice to have, and we had something to work on during our seclusion from one another.   We've posted a few of them here, and the rest can be seen on our YouTube channel.
 Please scroll down to see more videos. 
Thanks for looking and listening!  We'll hope to see you soon!
 - Annie, Lauren and Wendi